Supanova Gold Coast: April 20-22!
on
April 16, 2012
It's here it's finally here oh my God oh my God oh MY GOD YOU GUYS.
Supanova, Australia's finest pop culture convention* is hitting the Gold Coast for the first time on April 20 to 22. This is pretty exciting! When I was a kid I used to read about comic conventions in Marvel Age magazine and thought these kinds of things would never happen here in Australia. But now they're a regular thing! 13 year old me would FLIP**.
Anyway! Supanova Gold Coast is DOUBLY EXCITING because I will be exhibiting in the Artist's Alley section, doing sketches, selling brand new books and giving everyone hi fives like nobody's business***.
What kind of books you ask? WELL AM I GLAD YOU ASKED:
Funny Book Comic 2: BOOK HARDER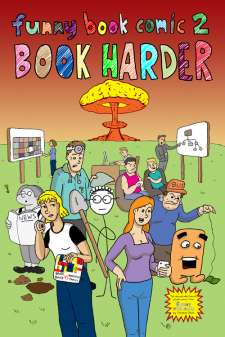 PREMIERING AT GOLD COAST SUPANOVA! This all-new collection of the second year of comics from funnywebcomic.com includes the debut of White Teenagers With Problems and Suburban Life Stories, the conclusion to the "Hive FM in Space" story, and a ton of other goofy things that will make you chuckle to yourself like that weird person on the bus nobody wants to sit next to. It also includes artist commentary**** for every week so you can watch my slow descent into madness unfold over the course of a year. Over a hundred pages of silly comics can be YOURS!
I'll be making this available on the Store in May, but it'll be available FIRST at Supanova – get it before everyone else (and signed, too!)
Blow The Cartridge #1
After the runaway success of the Blow The Cartridge mini comic at last year's show, here's a full colour, full sized collection of comics about the weirdest video games of all time! Over 30 pages of obscure references about video games that are probably older than you are now available directly from me at the show. I really can't overstress how good these look in print.
And if that wasn't enough, I'll be selling FOUR, EXTREMELY LIMITED EDITION BRAND NEW mini comics ONLY at the show! They won't be available anywhere else…oh yeah! CHECK THESE OUT!
HENRY THE SEXUALLY PERVERTED CHOCOLATE BAR – A fun-sized bite of candy-related hilarity. Highly recommended by the girl at Officeworks who read them while getting them printed!
PRESIDOG – The world's first canine commander in chief*****
BRENDAN BREWER, VIDEO GAME REVIEWER – After winning over fans on Kotaku Australia****** Brendan's early attempts at making it as a big time game reviewer are put on display
SUBURBAN LIFE STORIES – Comics about digging up the yard AGAIN. HOW MUCH YARD DO I HAVE ALREADY
Have I mentioned those mini comics will ONLY be available at the show? Well anyway, it bears repeating just in case you're on the fence about going. YOU CAN ONLY BUY THESE AT SUPANOVA SO YOU SHOULD TOTALLY COME TO THE SHOW AND SEE ME AND BE SUPERFRIENDS AND STUFF.
So come to the Gold Coast Convention Centre, April 20-22, and then head directly for THIS BIT:
That's Table Y1, AKA the source of GOOD TIMES FOR ALL. If you're in the area (heck, even if you aren't!) come by and say hi!
* that's a nice way of saying 'stuff dorks like us like'
** he'd probably just kind of awkwardly roll on the ground, the little fat bastard
*** that's about the only type of business in the comic industry that's for sure.
**** depends on how loose your definition of 'artist' is
***** of course knowing my luck with this guy it'll probably turn out there's already like 20 comics about a dog who is president, and they'll all be at the show, and all their fans will hate me
****** depends on how loose your definition of 'winning' is